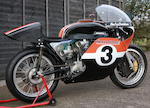 1972 Harley-Davidson XR750TT Racing Motorcycle
Engine no. 1010 035H5
Introduced for 1970, the XR750 has been the dominant machine on American half-mile ovals and TT tracks for over three decades, seeing off challenges from the likes of Triumph, Yamaha and Honda. The XR replaced the previously dominant KR 'flat head', which had reached the end of its development life, and debuted in iron-engined form before being superseded in 1972 by the all-alloy version. Back then, competitors in the AMA Grand National Series had to ride in both dirt track and road circuit races, whereas today these two disciplines have separate championships. Although competitive on the dirt, the early 'iron' XR750 suffered badly from overheating in long road races. However, in England's cooler climate the incomparable Cal Rayborn showed that it had the legs of the home grown opposition on the short circuits used for the 1972 Anglo-American Match Race Series. By the time the alloy-engined version was ready, the Japanese two-strokes had the upper hand on tarmac, thereby confining the XR750 exclusively to the dirt where the new alloy-engined version proved good enough to win the Grand National Championship in its debut year, ridden by Mark Brelsford. Later in 1972, Rayborn rode the XR750TT version to its first AMA Grand National road-race victory at Laguna Seca. Only a few dozen XR750TTs were produced to meet the AMA's homologation requirements and today these iconic American competition motorcycles are highly sought after.

This 1972 Harley-Davidson XR750TT was previously campaigned on road circuits in the USA. Noteworthy features include twin carburettors, Ceriani front forks, a four-speed gearbox and double-sided 4LS front brake. The machine was purchased by the current vendor at Bonhams & Butterfields' auction at Carmel, California in May 2010 (Lot 120) and after purchase was re-commissioned by v-twin specialists Ducati Coventry. The new glassfibre fuel tank has been treated to enable fuel containing ethanol to be used. The engine, which starts instantly, has been run in the workshop and may benefit from further carburettor adjustments. All four gears engage. There are no documents with this Lot.