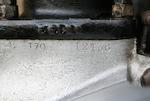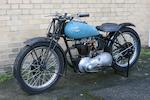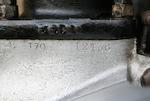 1938 Triumph 249cc Tiger 70 Project
Frame no. TL6589
Engine no. 8-T70-12436
Just as he had done at Ariel in the 1920s, Val Page transformed his employer's ageing range on his arrival at Meriden as Triumph's Chief Designer in 1932. The new line-up comprised overhead-valve and sidevalve singles in capacities ranging from 250cc to 500cc, plus the range-topping 650cc 6/1 sidecar tug. Edward Turner's arrival at Triumph in 1936 resulted in extensive improvements to the range. A brilliant stylist, Turner transformed Page's overhead-valve singles by adopting sports-specification engines, high level exhausts, chromed fuel tanks and a new name: 'Tiger'. Frames, forks, engines and gearboxes were all improved for 1937 and a trio of randomly selected Tigers successfully completed a series of arduous speed trails to secure the Maudes Trophy for Triumph later in the year. Today, Turner's Tigers are widely recognised as the most stylish sports roadsters of the period and thus are highly sought after.

This unspoilt and unrestored Tiger 70 was in running order with all gears working when the current vendor commenced its restoration; however, he got nor further than starting on the wheels and rear mudguard before deciding to sell it. There are no documents with this Lot, which is offered for restoration and sold strictly as viewed.