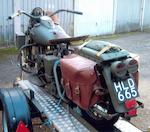 1943 Harley-Davidson 739cc WLC
Registration no. HLD 665
Frame no. 4928
Engine no. 43WLC4928
Introduced in 1929 as a competitor to Indian's successful 750cc 'flat head' (sidevalve) v-twin, the Harley-Davidson Model D - better known as the '45' (its capacity in cubic inches) - really took off when the USA's entry into WW2 created an unprecedented demand for military motorcycles. Around 90,000 of the WL (military) version had rolled off the Milwaukee production lines before hostilities ceased, and the Harley '45' saw action in just about every theatre of war. 'De-mobbed' Harleys helped meet the upsurge in demand for motorcycles in the immediate post-war years, doing much to establish the marque's reputation worldwide.
This Canadian-built '45' was first registered in 1946 and in 1961 passed through the hands of the famous London-based Harley-Davidson dealer, Fred Warr, whose name is the last recorded in the accompanying old-style continuation logbook (issued 1958) which shows that at various times it has been attached to a sidecar. In 1991 the machine featured in the motion picture 'Born to Ride', starring John Stamos and John Stockwell, and comes with the number plate it carried during filming. The current vendor acquired 'HLD 665' in 2001 and describes it as in generally excellent condition, though in need of re-commissioning. The machine is offered with old/current Swansea V5/V5C documents. (A purpose-built trailer is available via separate negotiation with the vendor).