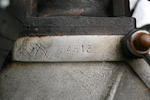 1937 Brough Superior 982cc SS80
Registration no. GMX 322
Frame no. BS/1852
Engine no. BS/X 4513
Gearbox no. IN16118

Introduced in 1922, the SS80 (so-called because of its guaranteed 80mph top speed in road trim) achieved instant fame when a stripped-for-racing version (nicknamed 'Spit and Polish') ridden by George Brough became the first sidevalve-engined machine to lap Brooklands at over 100mph. Even more surprising was the fact that this landmark figure had been achieved on its maker's Brooklands debut. That particular Brough Superior SS80 – subsequently re-christened 'Old Bill' - went on to win 51 out of 52 races contested, only failing in the last when a tyre burst.

Brough entered the 1930s with an entirely JAP-powered range and then, after a brief absence, the SS80 reappeared in 1935 as the SS80 Special, this time with an engine built by Associated Motor Cycles. Similar to that of the Matchless Model X, the 982cc sidevalve v-twin incorporated Brough's preferred 'knife-and-fork' big-end bearing arrangement, instead of the side-by-side connecting rods of the Matchless. The model continued to use the Plumstead-made engine until production ceased in 1939.

The motorcycle offered here is one of 460 Matchless-engined SS80s built, of which some 300-or-so survive. Purchased from Brian Verrall in March 2000, this matching-numbers example was ridden home from the showroom by the owner, who used it to attend Brough Superior Club rallies over many years. The machine's accompanying copy Works Record Card reveals that it was supplied to one O K Rea equipped with rear suspension, foot gear control, separate oil tank, left-side brake pedal, pannier bags, Wasdall split rear mudguard, Cranford front guard, top and bottom rear chaincases and Amal touring handlebars complete with dual internal twist grips. The accompanying old/current Swansea V5/V5C documents record the previous owner as J P Comerford, who is confirmed as belonging to the eponymous Thames-Ditton motorcycle dealership-owning family by the old-style continuation logbook on file. Described by the private vendor as in generally good condition, the machine is offered with the aforementioned documentation, Verrall's purchase receipt, assorted SORN paperwork and three expired MoT certificates (most recent June 2008).