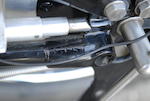 Last off the production line
1955 Vincent 998cc Black Shadow Series C
Registration no. PYE 714
Frame no. RC12571B
Engine no. F10AB/1B/10671
Production of Vincent's much altered Series D range began in 1955, but for the first couple of months the Stevenage firm was still turning out the Series C, approximately 287 of which were manufactured early that year. Dating from February 1955, this matching numbers machine is the final Series C Black Shadow produced (confirmed by the Vincent Owners' Club) and thus of exceptional significance in the history of the Vincent motorcycle. Purchased new from Forest Hill, South London dealer, Jack Surtees, the machine was acquired by the immediately preceding owner's father (Mr Brown, only its third private owner, now deceased) in 1996. The preceding two owners had both been friends of Mr Brown in Forest Hill, and the Vincent was acquired from the second owner's family following his untimely death. The Vincent was in pieces when acquired, having been stripped down for repair in 1969 (following a minor accident involving a 'Keep Left' sign) and kept in dry storage ever since. It has covered fewer than 29,000 miles from new.

The preceding owner recounted this machine's history in the Vincent Owners Club magazine MPH (September 1999 edition) following his father's death earlier that same year: 'Dad, having built a Rapide to concours standard in the 1980s was familiar with the best suppliers in the country and set about restoring 'PYE 714' to its former glory. Every time I visited father over the next three years I could see it taking shape and took pleasure in his joy at working on something he had coveted for over four decades. Sadly, Father passed away before he was able to complete the restoration in 1999 at the age of 69. I have since completed the restoration with the aid of Colin Jenner at Conway motors and partly run it in. The bike is now running as well as it did in 1955.'

In October 2007 the Shadow was offered for sale and purchased by the current vendor at Bonhams' Stafford auction (Lot 391), since when it was been on display in his private museum. 'PYE 714' retains its original buff logbook, stamped by Jack Surtees and signed by him, which records the names of the two owners prior to the late Mr Brown. Presented in immaculate condition, the machine comes with a detailed history file (inspection recommended) containing a substantial quantity of restoration invoices from recognised specialists including the VOC Spares Company, Vin-Parts, Conway Motors and Derek Sayer, who rebuilt the engine. In addition, 'PYE 714' is offered with an original Vincent Rider's Handbook, Swansea V5C registration document, assorted other documentation/correspondence and a copy of Motorcycle Sport & Leisure (March 2008 edition) in which the Vincent is tested by Alan Cathcart. The customary safety checks and re-commissioning are recommended before use.