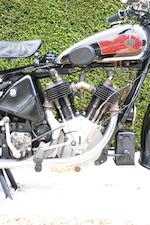 1934 BJS-JAP 980cc 'Composite' V-Twin
Registration no. DKK 421
Frame no. 57775
Engine no. 57775
This special was built by Bill Jackson of Dartford, Kent, a Vickers apprentice who made a number of specials, including a four-cylinder machine. He acquired an Austin Seven engine, removed all the ancillaries and cast a new cylinder block that was installed transversely in a modified BSA Sloper frame, driving the rear wheel via a Triumph gearbox. Jackson's 'four' was depicted in The Motor Cycle magazine in 1935 with a letter from its maker. In 1937 the complete machine was shown, called the 'Silver Streak', and was the subject of a report entitled 'An Enthusiast's Home-built "Four"'. However, persistent cooling problems, a lack of torque compared with v-twins, dissatisfaction with the Triumph gearbox and road holding problems caused by the rear suspension forced Jackson to abandon the machine

He next acquired an ex-WD JAP 8hp v-twin engine and, using the Sloper frame again, chopped off the rear suspension and grafted on a rigid rear end. A Sturmey-Archer three-speed gearbox was used for the new 'special', which incorporated several novel features including a large outside
flywheel driving the dynamo by belt; a dual contact breaker assembly; his own positive-stop foot change mechanism; and a centre stand with spring-loaded latch, believed to be of the Mills type.
Since the present owner acquired the BJS (some 30-plus years ago) it has been extensively rebuilt, the internal flywheel assembly being overhauled by Alpha, new cylinder liners installed (allowing the original cast-iron pistons to be retained), two gearbox ball bearings replaced, the lubrication system improved and much more besides. The dynamo is now a modern type with Boyer control system and has been completely rewired. Bill Jackson's thoroughness in producing a 'professional' machine is demonstrated by the presence of his initials on the stove-enamelled fuel tank.

The late Bob Currie, editor of The Classic Motor Cycle, wrote a feature on the BJS in 1984, recalling its previous history. Original copies of The Motor Cycle from 1935 and 1937, and the 1984 edition come with the machine together with an original 1917 JAP Motors instruction book and a complete photographic record of the renovation. Its restoration completed in 2010, this unique motorcycle is described as in generally very good condition and offered with the aforementioned literature, VMCC dating certificate, sundry restoration invoices, current MoT/tax, old/current Swansea V5/V5C documents, and VMCC, Collectors Club and Association of Pioneer Motor Cyclists period badges.