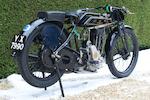 1928 Sunbeam 493cc Model 9
Registration no. YX 7990
Frame no. D3303
Engine no. L2316
This Model 9 'flat tanker' was acquired in 1959 as a dismantled project contained in several tea chests, and rebuilt over a five-year period. Found to be in good order, the cycle parts were renovated first, the greatest difficulty being stripping the frame of Sunbeam's rubbery primary coating, which had to be scraped off. After rust preventative treatment, all the black finished parts were brush painted using 'Kingston' Diamond synthetic paint (three coats). Aluminium mudguards were used and the front wheel rim changed for a 20" size, which well-known racer of these models, Neil Stephenson, recommended to improve the steering. Apart from new tyres, brake linings, chains and control cables, this was all that was needed. We are advised that the engine was surprisingly good; the castings of both it and gearbox were bead blasted and the flywheel assembly treated to new main bearings, big-end rollers. New rings were fitted to the high-compression piston and the valve springs renewed, while both the valves and guides were found to be serviceable. The gearbox needed little attention apart from two new bearings and a clean, but the clutch was replaced with a more conventional five spring unit rather than the single-spring type. A Brooklands Can silencer is fitted instead of the cylindrical Sunbeam type, much to the distaste of the purists. 'YX 7990' has taken part in several Coventry to Brighton Runs, riding all the way around from Henley-on-Thames, as well as the Banbury Run and many other VMCC events. Since circa 2003 the Sunbeam has been off the road, its use being confined to parading at Dijon, Schotten and the Festival of 1000 Bikes at Mallory Park. Offered with the machine, the original handlebars and levers were removed and replaced with the current items to meet track safety requirements. Recent routing maintenance has included renewing the exhaust rocker spindle and fitting a new front tyre. Described by the private vendor as in generally very good condition, the machine is offered with spare transfers, instruction manuals, various items of related literature, assorted photographs, VMCC dating certificate, old-style continuation logbook, current road fund licence, MoT to 4th May 2012 and old/current Swansea V5/V5C documents.