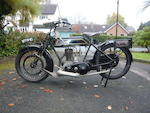 1922 Sunbeam 4¼h.p
Registration no. NY 1445
Frame no. 42964
Engine no. 192668
By the end of WW1, the Wolverhampton Sunbeam factory had lost their chairman, John Marston, but had gained much experience in the production of motorcycles for the armies of England, France, Italy and Russia. The post-war range was augmented in 1922 by a long-stroke '600', based on their French Military Model, with 85mm bore and 105mm stroke, giving plenty of torque and excellent top-gear performance. 'The Finest Single-cylinder Sidecar Machine' said the catalogue and the '4 1/4', only called the 'Model 7' in the following year, became a much-loved mainstay of the range and eventually the last 'flat-tanker' to be made by Sunbeam.

NY 1445 was purchased in 1983 as a rather tired 'runner', unusually with a documented history from new. After a period of light use, a full rebuild, by Robin James of Leominster, was commissioned, at a cost of many thousands of pounds. This was completed in 1995 and the Sunbeam became a reliable and much-appreciated vintage participant again. As so often happens, the vendor's business interests had to take priority and the '4 1/4' was carefully stored.

The decision was taken to sell because of lack of use and this lovely Sunbeam now comes with old-style V5, the RF.60 log-book, SORN and many other papers, 'before and after' photographs and the large file from Robin James documenting the restoration and costs. Re-commissioning after storage will be needed, but this Sunbeam is basically ready to resume its career on the road.
Saleroom notices
The engine number is: 166/19268