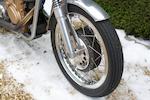 1991 Seeley-G50 500cc Mk2 Racing Motorcycle
Frame no. RMT Mk2 71R
Engine no. 62 G50 1948
Many-times British sidecar champion Colin Seeley bought Associated Motor Cycles' racing department when the company went into receivership in 1966. The previous year he had constructed the first Seeley racing frame to house a Matchless G50 engine, and the AMC purchase enabled him to produce complete Seeley G50 and AJS 7R-engined machines. With their improved frames, the ageing four-stroke singles enjoyed renewed competitiveness, Dave Croxford winning the British 500 Championship on a Seeley G50 in 1968 and '69. Production of Seeley frames was later licensed to Roger Titchmarsh and there have been countless unauthorised copies made over the years.

This Seeley G50 was built in 1991 by Richard Tree of Chatterden, Kent using a frame, engine and Dyson six-speed Schafleitner-style gearbox, all supplied by Roger Titchmarsh. Other new parts used in the build include Richard Hunt forks and brakes; Bob Newby belt primary drive and clutch; PAL magneto and twin-plug ignition; Falcon shock absorbers; Dell'Orto carburettor; Amal GP float chamber; and a Kröber rev counter. Richard Tree rode the Seeley in the Senior Manx Grand Prix in 1993, 1995 and 1997, with a best finish of 25th (1995) and a fastest lap of 92.47mph (1993). He also competed on it at Silverstone, Snetterton, Brands Hatch, Mallory Park and Ardennais in Belgium. Since acquisition by the current vendor, the machine has been ridden at the Nürburgring Kölner Kurz (2002, 2003 and 2004), Coupes Moto Legende (2003, 2004) and Festival of 1000 Bikes (2007, 2008). Never dropped, the Seeley has not been used since the engine top-end was stripped and checked by Norman White towards the end of 2008 as part of routine maintenance. The rear tyre is only one event old. Included in the sale is a new and unused Hawksley starter; full fairing; G50 nosecone fairing/numberplate; high- and low-level exhaust pipes and mufflers; and a new drive belt and rear sprocket. The accompanying history file contains the machine's CRMC Registration Certificate (Group 1, Period 2); assorted photographs; a quantity of Seeley-related literature; and copies of Richard Tree's race notes on maintenance, set-up, etc.