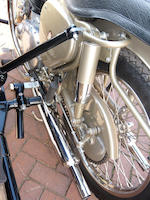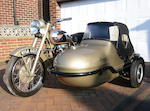 1954 BSA 646cc A7 Golden Flash Watsonian Monza combination
Registration no. WHA 60
Frame no. A7.6299
Engine no. CA10. 3769
BSA's later post-war range contained some very fine machines, including the two 'Golds', the 'Gold Star' and the 1950-on 'Golden Flash', the company's most powerful twin, equally at home solo or with a 'chair' attached, a single-seater for sporting travel or a double-adult for when the inevitable family arrived. Developed by Bert Hopwood from the A.7, the BSA response to Triumph's twin-cylinder range, the very heavily revised A.10 was a much more robust machine with a greater power output than the extra 150cc might promise, and itself being the basis for development from 1954-on into the 'Road Rocket' and 'Rocket Gold Star'.

WHA 60 has been the subject of a private restoration to 'better than new' condition by its owner for over twenty years, a Staffordshire re-builder noted for his quality of approach. No expense has been spared, even to the extent of reproducing the rare rear attachment for the sidecar instead of using a universal fitting. Stainless steel abounds and the paint finish, in Silver Poly Beige, is impeccable on both the A.10 and the period Watsonian 'Monza' sidecar chassis and body, which is fitted with a new hood and new upholstery.

Running beautifully, as might be expected, the 'Golden Flash' has a V5C for its Smethwick number and an MOT certificate to January 2013 together with a (free) tax disc and is ready to ride away and enjoy for the season.
Saleroom notices
The frame number is: CA7 6299