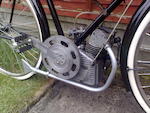 1950 Ducati 48cc Cucciolo & Raleigh Bicycle
Registration no. LPX 705
Frame no. 832509
Engine no. 229164
Designed for bicycle attachment, the Cucciolo ('little pup') was the Bologna-based Ducati factory's first product and was sold widely outside Italy including the UK where it was imported by Britax, which later offered complete machines. Unusual in being a four-stroke at a time when most such utility units were two-strokes, the overhead-valve Cucciolo was of unitary construction incorporating a two-speed transmission, and was described by Motor Cycling magazine as 'beautifully engineered'. Bought as an engine only, this Cucciolo is attached to a period Raleigh bicycle featuring 'new old stock' mudguards and hubs, the latter laced to stainless steel rims shod with new tyres. We are advised that the engine was bench tested three years ago but 'LPX 705' has not been used because the gearchange mechanism is missing. Sold strictly as viewed, the machine is offered with original logbook, original parts book and Swansea V5 document.