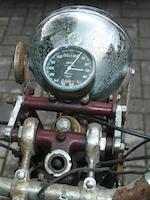 Property of a deceased's estate
1938 Triumph 498cc Speed Twin
Registration no. DRW 617
Frame no. TH 6453
Engine no. 812999
Although Edward Turner's Triumph Speed Twin caused a sensation when it appeared at the 1937 Motorcycle Show, few of its admirers can have guessed how influential the design would prove to be, establishing a formula that would be adopted by all of Britain's major motorcycle manufacturers in the succeeding decade. And whereas previous vertical twins had suffered from excess bulk, Turner's was lighter and narrower across the crankcase than the contemporary single-cylinder Tiger 90, and from certain angles looked just like a twin-port single. Performance proved exemplary for a road-going 500, better than 100mph being attainable under favourable conditions. This example was acquired by its late owner in December 1989. Offered for restoration and sold strictly as viewed, the machine comes with old-style continuation logbook (issued 1959), expired MoTs (x5) old Swansea V5 (x2) and current Swansea V5C document.
Saleroom notices
The engine number is: 85T 12999