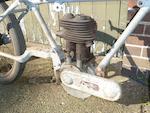 1927 Triumph 500cc Model ND Project
Registration no. TF 3031
Frame no. 2009883
Engine no. 301859
A landmark machine in the development of the motorcycle in Britain, Triumph's Model P debuted at the 1924 Motor Cycle Show. A no-frills sidevalve-engined model, the newcomer undercut every other 500cc machine then on sale in the UK. Production was soon running at an astonishing 1,000 machines per week, the Model P's outstanding success undoubtedly hastening the demise of many a minor manufacturer. Production continued until the decade's end, by which time the Model P had spawned a plethora of more refined derivatives - Models N, Q and QA among them - and lost penny-pinching features such as guide-less valves and bicycle-derived front brake. Purchased some years ago, its history being unknown, this Triumph ND is offered for restoration and sold strictly as viewed. A VMCC dating certificate comes with it.
Saleroom notices
The engine number is 243153 RSA.