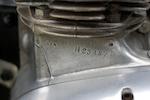 1961 Triumph 490cc 3TA
Registration no. 61-WW-21 (ROI)
Frame no. H23487
Engine no. 3TA H23487
Triumph re-entered the 350 class in 1957 with the introduction of the Twenty One, its arrival ushering in Triumph's unitary construction era. Readily distinguishable by its Shell Blue metallic finish and 'bathtub' rear enclosure - a feature later applied to Triumph's larger models - the newcomer was renamed '3TA' in September 1958. With just 18.5bhp on tap, Triumph's smallest twin lacked the urgent acceleration of its larger brethren but nevertheless was a capable tourer good for around 80mph while delivering excellent fuel economy. 'One of the swiftest standard British-made 350cc roadsters tested by Motor Cycling, the Triumph Twenty One combines an untiring zest for high-speed cruising with safe handling and a remarkably economical fuel consumption,' declared the 'Green 'Un'. Described as in generally good condition, this restored Triumph 3TA is offered with Vehicle Registration certificate and an expired tax disc (March 1995).