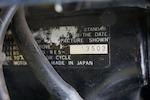 1975 Suzuki 497cc RE5
Frame no. RE 13503
Engine no. RE5 13275
Although not (quite) the first rotary-engined motorcycle to reach production - that honour falling to the DKW/Hercules W2000 - Suzuki's RE5 nevertheless stunned the motorcycling public when it was unveiled at the Tokyo Show in 1973. An heroic engineering tour-de-force, the RE5 successfully addressed many of the technical problems that hitherto had bedevilled the rotary engine, albeit at a cost of increased complexity. Sadly, it failed to attract sufficient customers from within the notoriously conservative motorcycle-buying public and was withdrawn from production in 1977. This example was offered for sale by its first owner, Charles W Leary of Cochranton, PA and purchased by Harry at the Daytona motorcycle auction in 1991. Offered for restoration, the machine currently displays a total of 6,380 miles on the odometer and comes complete with a Windjammer fairing. Accompanying documentation consists of the original purchase receipt, pre-delivery certificate and Suzuki warranty booklet; 1991 purchase receipt and ROI Motor Vehicle Duty Certificate.