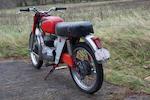 c.1974 Bultaco Junior GT2 75
Frame no. YM13000639
Engine no. YB13000639
One of motorcycling's many legends, the foundation of Bultaco was occasioned by the resignation of Francisco Xavier Bulto from Montesa, a company he had co-founded with Pedro Permanyer in 1945. The Montesa board wanted to withdraw from racing; Bulto disagreed and left in 1958, taking most of the racing department with him to set up a new company – Bultaco. By the spring of 1959 the fledgling concern's first machine - the Tralla 101, a 125cc two-stroke - was ready for production. The machine offered here is an example of the Junior GT2 75 (built from around 1972 to 1976), one of Bultaco's smaller models, which had debuted as the 'Junior 74' in 1966. The machine was bought new from Bultaco by Harry for one of his young sons and has never been registered for the road. There are no documents with this Lot.
Saleroom notices
The frame number is YB13000639. The engine number is YM13000639.