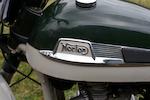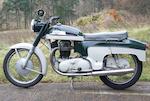 1960 Norton 596cc Dominator 99 Deluxe
Registration no. 60-WW-21
Frame no. 91526
Engine no. 91526
Norton jumped aboard the vertical-twin bandwagon in 1948 when it introduced the Model 7. Designed by the legendary Bert Hopwood, the new 500cc engine went into the existing ES2 plunger-frame/tele-fork cycle parts, a marriage that necessitated a redesign of Norton's well-proven four-speed gearbox. Norton's twin found a new home in the racing singles' 'Featherbed' duplex frame in November 1951. Initially for export only, the newcomer - titled 'Dominator 88' - was the first production Norton roadster to feature the lightweight, race-proven chassis. Updated year by year, the Dominator had received an alloy cylinder head, full-width hubs, welded rear subframe, alternator electrics and coil ignition by the decade's end plus - for 1960 - the narrower 'slimline' Featherbed frame among countless other improvements. Introduced for 1956, the 596cc Dominator 99 twin was outwardly identical to its Dominator 88 brother. Endowed with greater power and higher gearing enabling it to top the magic 'ton', the 99 nevertheless retained all the excellent handling and steering characteristics associated with the Featherbed chassis. One of the Rockers' favourites, the 99 remained essentially unchanged - apart from gaining alternator/coil-ignition electrics for 1958 - until dropped in 1962. Described as un-restored and in good mechanical condition, this Dominator 99 Deluxe was last taxed for the road in May 2001. There are no documents with this Lot.
Saleroom notices
This Lot is now offered with accompanying Irish Vehicle Registration Document.