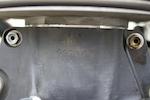 c.1991 Norton 499cc Manx by McIntosh
Frame no. 11M2 097305
Engine no. 11M 097305
When production resumed post-war, Norton's over-the-counter Manx racer emerged much as it had been in 1939, with single-overhead-camshaft engine, 'square' cylinder head finning, upright gearbox, and plunger-suspended 'garden gate' frame. Only the presence of the Roadholder telescopic front fork readily distinguished the new Manx from its immediate predecessor. 1949 brought the first significant change in engine specification, the Manx gaining a double-overhead-camshaft cylinder head like that enjoyed by the works bikes for many years, but the major development was the arrival of the Featherbed frame for 1951. Works rider Geoff Duke had debuted the Featherbed at Blandford in April 1950, crushing the opposition and setting a new lap record, and the McCandless-designed chassis would enable Norton to remain competitive with the more powerful multi-cylinder opposition for the next few seasons.

As far as its cycle parts were concerned, the last Featherbed-framed Manx of 1962 was recognisably the same machine as that which debuted in production form in 1951. There were, of course, differences but these were minor when compared with the changes made to the engine. The latter's major revision occurred in 1954 when both 350 and 500 models adopted near 'square' bore/stroke dimensions. The result was significantly increased power but from then on the gains would be smaller and much subsequent development was aimed at improving reliability. Today the popularity of the Manx in classic racing remains undiminished, with original examples racing alongside replicas of differing specification produced by specialist manufacturers worldwide.

The superb example offered here is the work of well-respected marque specialist, Ken McIntosh of Penrose, New Zealand. Purchased new by Harry circa 20 years ago, the machine features a 1961-specification rolling chassis, Summerfield 86mm-bore engine (tuned by ex-World Champion Hugh Anderson) and a Mick Hemmings-supplied Quaife five-speed gearbox. Only six parade miles have been covered since acquisition and the machine remains in effectively 'as new' condition, though careful re-commissioning is advised before returning it to the track. An ideal mount for the Lansdowne and other prestigious historic race series, the machine is offered with technical data, assorted correspondence and McIntosh price List.