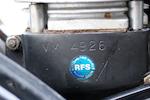 c.1963 Velocette 499cc Venom to Thruxton specification
Registration no. 62-WW-22
Frame no. 17620
Engine no. VM4926
'Prestige machine of the pushrod range was the Venom Thruxton 500. It incorporated all the accumulated experience gained in the years the Venom Clubman has been raced in long-distance events, plus the development of the 12 and 24-hour record breaker.' – C E A 'Titch' Allen, The Velocette Saga.

Production race successes, notably in the Thruxton 500 Mile event prompted Veloce Ltd to adopt that name for their newly introduced top-of-the-range sports roadster in 1964. Based on the existing Venom, the Thruxton featured a tuned engine with revised big-valve cylinder head, Amal GP carburettor, clip-on handlebars, rear-set footrests and a twin-leading-shoe front brake as standard equipment. Although the Thruxton took its name from the eponymous Hampshire racing circuit, arguably its finest hour came in 1967 when Manxman Neil Kelly won the '500' class in the Isle of Man TT's Production race, newly introduced for that year.

Although much admired by the café racing fraternity, the Thruxton's necessarily high price limited its appeal to a select handful of wealthy connoisseurs. It is thought that as few as 1,100 were made by the factory (with a further 55-60 assembled from parts by main dealers) and today the Thruxton is one of the most sought after of post-war Velocettes.

Built by renowned marque specialist Ralph Seymour to Thruxton specification, the machine offered here consists of frame number '17620', which left the factory in 1963 in either an MSS or a Viper, and engine number '4926' that was originally part of a Venom despatched to Leeds Motorcycle Centre in February 1961. This beautiful machine was displayed at 'The Art of the Motorcycle' exhibition at the Guggenheim Museum in New York. There are no documents with this Lot.
Saleroom notices
This lot is now offered with accompanying Irish Vehicle Registration Document.