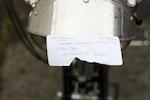 1912 Rudge 499cc
Registration no. RI 7025 (ROI)
Frame no. 657631
Engine no. 4939
Formed by the acquisition in 1894 of the Rudge Cycle Company Ltd by the Pugh family's Whitworth Cycle Company, Rudge-Whitworth built its first motorcycle in 1910. Unlike many of their contemporaries, Rudge did not use a proprietary engine but one of their own design: a 499cc single with inlet-over-exhaust valvegear. The new 3½hp model proved outstandingly successful; in 1911 Victor Surridge's became the first 500cc machine to exceed 60 miles in one hour, while Rudge-mounted Cyril Pullin won the Isle of Man Senior TT for the Coventry manufacturer in 1914. Prior to this landmark achievement, Rudge had jumped the gun somewhat with the introduction of a 'TT' model in the spring of 1911, before any of its machines had competed in the Isle of Man! Sadly, the 1911 TT was marred by the death of Surridge in practice, the first fatality at that event.

Rudge continued to set world records at Brooklands, establishing new one-hour and two-hour marks in 1912 at more than 65 miles and 122 miles respectively. The firm also figured prominently in the popular reliability trials of the day, thereby demonstrating that its products were durable as well as fast. By this time the desirability of incorporating a clutch into the transmission had become all too apparent, as had the need for variable gearing. Many customers specified one or other of the numerous competing proprietary transmissions - NSU, Sturmey-Archer, Phillipson, etc - while Rudge offered the Mabon variable gear. Although preferable to direct drive, the Mabon had its weaknesses, prompting Works Manager John Pugh to come up with something better – the Multi. Controlled by a tank-mounted lever, the Multi worked by varying the diameter of two pulleys, one on the crankshaft, the other on the rear wheel, offering ratios between 3.5 and 7.0:1 while maintaining drive belt tension. An outstanding success, it would remain in production for the next ten years.

First owned by Thomas Gaynor of 1 Park Terrace, Francis Street, Dublin, this early Rudge has direct belt drive transmission and an engine-shaft clutch. The story of how he acquired the Rudge is related in Harry's book, 'The Seanachie of Motorcycling'. Fully restored by Tennant-Eyles in the mid-1980s at considerable cost, the machine is described as in generally very good condition apart from the front wheel rim's paint (scraped off by the brake). Accompanying documentation consists of sundry restoration invoices, completion test report and related correspondence. We are advised that the original Dublin registration has been applied for.