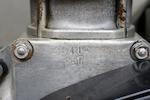 1951 Norton 490cc 500T Trials
Registration no. IN 8341 (ROI)
Frame no. 5T 38415
Engine no. 5T 38415
In the immediately post-war years the traditional view that a rigid frame was required to maintain traction on the dirt continued to hold sway in the trails and scrambles worlds. Among the major manufacturers, Royal Enfield was the first to break with the past, introducing a swinging-arm suspended trials model in 1947. The new 'springer' soon showed its potential when works rider Charlie Rogers won the 1948 Allan Jefferies Trial. When Johnnie Brittain won the British Experts and Scottish Six Days Trials in 1952, the writing was well and truly on the wall for the rigid-framed dinosaurs. Before long every major manufacturer was offering a 'springer' trials model, the exception being Norton, whose frontline 500T ended its days in 1954 with the same rigid frame it had started with in 1948. Since then some owners have converted their 500Ts to swinging-arm rear suspension, including Harry, who modified this one circa five years ago using Hagon shock absorbers. Norton factory records held by the VMCC indicate that this particular 500T was delivered new to Dublin on 22nd May 1951. The machine was first owned by Graham Leask and latterly by Matt Dawson, a top Irish trials contender during the late 1950s. Harry says that his converted 500T is 'the most comfy machine to ride out of the entire collection' and advises us that the gearbox mainshaft oil seal needs replacing. The machine is offered with history file and we understand that a replacement registration document has been applied for.