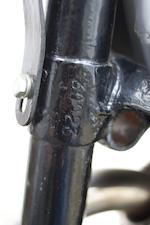 1949 Norton 490cc 500T Trials
Registration no. ZE 5177 (ROI)
Frame no. 30023
Engine no. D3T 23982
Norton factory records held by the VMCC indicate that this particular example's engine formed part of a 500T delivered new to Dublin on 14th June 1949. The record for the frame ('30023') is blank. The machine was first owned by Mick Tracey, one of the foremost Irish trials riders of his day, who fell off it and broke his leg. It was restored by Harry circa ten years ago, the engine being overhauled and frame tubes replaced where needed while retaining the original lugs. We understand that a replacement registration document has been applied for.