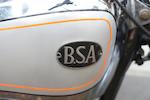 The ex-Bert Perrigo, Stanley Woods
1939 BSA 348cc B25 Competition Model
Registration no. EOK 449
Frame no. KB24 968
Engine no. KB25 103
During the 1930s BSA concentrated on producing a range of dependable, well-made, competitively priced motorcycles. The firm's single-cylinder range was re-designed by Val Page for 1937, the engines taking on many of the characteristics they would retain in the post-war era, most notably dry-sump lubrication, rear-mounted magneto, and that distinctively shaped timing cover. There were four new offerings in the 350 class: the sidevalve B23 and a trio of overhead-valve models. These comprised the B24 Empire Star, the B26 Star, and the B25 Competition model that came equipped for trials use. The B-series quartet lasted until the wholesale revision of the range for 1940, which saw all four of them dropped.

This particular B25 was first used by Bert Perrigo, the well-known trials rider and head of BSA's Competitions and Experimental Departments, who had worked at Small Heath since 1926. Bert rode 'EOK 449' in British Open Trials during the 1938/39 seasons, after which the machine was retained at the factory. Stanley Woods, the great Irish road-racer and ten-time Isle of Man TT winner, purchased it after the war's end in a deal arranged by his friend Stanley Banner, an executive in BSA's sales department, at a nominal cost of £5! In 1985 Harry purchased the machine from Stanley Woods, whose letter authenticating its history is on file. A very accomplished trials rider, Stanley recalled the BSA as 'a lovely bike, quite the best I had ridden to that date.' Since acquisition the BSA has been paraded by Harry and his family and is described as in 'good honest condition', bearing a few light 'battle scars' here and there. The machine is offered with the aforementioned letter.