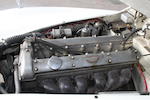 1956 Jaguar XK140 SE Roadster
Registration no. UZD-000 (SA expiry 06/09/12)
Chassis no. S812144DN
Engine no. G7002-8S
The Jaguar XK-120 roadster created a sensation at the 1948 London Motor Show. Low and lithe, with a curvaceous envelope body, it had a newly-designed dual overhead cam six of 3,442cc. The model took its name from a May 1949 speed run by a production roadster on Belgium's Jabbeke Highway, where it was clocked at over 120mph. The first XK-120s arrived in the United States in August 1949, West Coast deliveries beginning the following month. Priced at $3,945, it cost as much as a Lincoln Cosmopolitan and almost twice the sticker on an MG TC. But there was nothing else like it on the market. Of the 12,000 XK-120s built over the model's lifetime, most were left-hand drive, nearly all of them destined for North America. A handsome fixed-head coupe was added to the line in 1951, and a convertible, "drophead coupe" in the British parlance, with a more substantial top and roll-up side windows in 1953.

For 1955, the chassis was redesigned, with larger torsion bars, better brakes and rack-and-pinion steering. The engine was given higher-lift camshafts, which had the effect of raising horsepower to 190. There were also subtle appearance changes, the grille with fewer, more widely spaced bars, and full-width bumpers front and rear. Flashing directional signals were located in the front fenders, just above the bumper.
Moving the engine three inches forward allowed a roomier cockpit, but required relocating the battery compartment into the front fender. The car was re-designated XK-140. The three body styles continued in production through mid-1957, each available in any of the three variants. The Laycock de Normanville electric overdrive available on some XK-120s was continued as an option, and during 1956 an automatic transmission, the first in a Jaguar sports car, became available on coupes and dropheads.
In May 1957, the XK-140 was succeeded by the wider and recontoured XK-150. International economics, however, had been kind to the Jaguar. The USA delivered price of a 1956 XK-140 was less than that of the original XK-120, while the top-line Lincoln had risen by $800. While fewer than 4,000 Jaguars of all types were sold in the United States that year, each one represented exceptional value.

Described the vendor as being in excellent condition in all departments, this handsome 1956 XK140 SE was located in the dry California climate in 1989 after a long search and converted to right-hand drive (with approval and engineering papers on file). Fitted with wire-wheels, dual exhausts and foglights, this desirable SE model has the 3.4-litre engine and 'C' type cylinder head, high speed crankshaft damper and overdrive. Finished in white paint, nicely complemented by the whitewall tyres, with contrasting red leather upholstery, this XK140 has a lovely patina. Included with Jaguar is a detailed history folder, including an original maintenance book, copies of registration documents since importation into Australia, service records and a Union Jack decorative front plate.