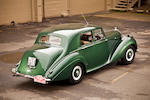 Ex-Mike Couper, 1953 Monte Carlo Rally Coupe d'Or Winner
1952 Bentley R-Type Saloon
Chassis no. B68SR
Engine no. B43S
*4½-liter inline six
*Rally prepared with factory assistance

*Ordered new by Mike Couper
*1953 Monte Carlo Rally Concours de Confort class winner
*Featured in Couper's book Rallying to Monte Carlo
*A competition car for the sporting gentleman

This amazingly well documented R-Type Bentley has a remarkable early history. It is the actual car campaigned in the 1953 Monte Carlo Rally by one of the very few British sportsmen who could lay claim – though he would never have dreamed of doing so – to being supremely well qualified as a postwar 'Bentley Boy'.

Mike Couper was what British journalists of the period would have described as being "a man of substance". He ran a considerable business, was comfortably wealthy, and he was highly respected committee member of both the British Automobile Association and the British Racing Drivers' Club, and a friend characterized him as being "the type of man whom a London cabby automatically calls "sir". A lifelong car enthusiast, he ran a major motor distributorship and at one stage around 1929-30 he had been in partnership with Sir Henry 'Tim' Birkin as the Birkin & Couper business which manufactured the illustrious line of 'Blower' Bentley supercharged 4½-liter racing and road cars.

But Brooklands racing ended for Couper by the close of the 1938 season. He missed competition and sought a new challenge, so when Jack Scott, Sales Manager of Sunbeam-Talbot, suggested he should enter the winter-time Monte Carlo Rally of 1939, he jumped at the chance. 'The Monte', as it was known, was absolutely the Indy 500 of wintertime motoring in the UK and Europe. With eight starting points, Athens in Greece, Bucharest in Rumania, Tallin in Russia, Palermo in Sicily, Stavanger in Norway, Umea in Sweden, John o'Groats in Scotland and Amsterdam in Holland, all routes down to Monte Carlo on the Mediterranean coast at Monaco were of roughly equal length. They ultimately combined onto a common road, but to avoid losing points competitors had to maintain contemporarily high average speeds. Final eliminating tests were tough and against the clock, ending ultimately in a Concours de Confort. This finale saw all surviving cars valeted and polished, and judged on detail finish and forethought in their equipment. Mike Couper's Hillman won its class and the burly, extremely convivial English gentleman driver had caught The Monte Bug....

The first postwar Monte Carlo Rally in 1949 then saw Mike Couper enter a brand-new Bentley Mark VI Steel Saloon, in which he was accompanied by fellow sporting gentlemen Leslie Seyd – a wine importer - and Dr Melville Balfour – who was both a medical practitioner and a wine merchant. You get the picture?

They had a splendid time in the Bentley carefully prepared for them by the Rolls-Bentley factory – and again Mike Couper's entry won the Concours de Confort! Back home he submitted a full report upon the event to Rolls-Royce. Upon a visit there he "murmured my thanks and suggested it would be pleasant to go to Monte Carlo again in 1950". "Could be – come and see us about next October' they smiled."

At the London Motor Show he chose a Rolls-Royce Silver Wraith Sports Saloon by Park Ward, and again won the Concours de Confort, despite having collided en route with a French camion and having a crushed front fender concours-repaired in 16 hours!

For the 1951 Monte Carlo Rally, ran to strict stock rules, he chose another Bentley Standard Steel Saloon yet saved 112lbs weight and had the engine "unobtrusively" tuned. And yet again he won the Grand Prix award in the Concours de Confort - and in 1952 with yet another fresh Bentley he maintained this startling 100 per cent record.

And so to 1953 when Mike Couper, Pat Fillingham and Peter Tabor formed the intrepid gentleman trio who crewed B68SR – UK Registration Number 'PLG 728' – now offered here. The car had the 4 ½-liter engine and large luggage trunk and equipment carried on this annual snow-bound adventure included two spare wheels fitted with snow tires, two hydraulic jacks fitted to boards to prevent them sinking into snow, a nylon tow rope, two compressed air bottles, thermos flasks and stop watch board.

In Mike Couper's entertaining book Rallying to Monte Carlo, he wrote, "I came into possession of PLG 728, a very nice example finished in dark olive green with grey upholstery. The car's special preparation included Dunlop racing and trackgrip tires with hand-cut 'Pneu-grippa' wet-weather treads. The famous 'Kes' Kesterton of SU Carburetors advised on fine tuning, and with a special works-provided cylinder head with "the cylinder heads and ports polished to a beautiful mirror-like finish" 'PLG 728' offered here was timed at 9.0 seconds 0-50mph, 18.5secs 0-75mph and its top speed was checked at 102mph.

They started the 1953 Monte Carlo Rally from Glasgow, Scotland. At Llandrindod in Wales "we had an excellent dinner at 'The Commodore'" before continuing via London to Dover and the cross-Channel ferry. Once in France lunch was taken in the Count of Luxembourg Hotel at St Omer before charging on through ever-denser fog into Belgium, then Holland. The Hotel Gallia in Brussels allowed refreshment, then back on icy, fog-bound roads to Paris, France.

A mere 'Rally dinner' was taken in the Hotel Berry at Bourges, and then 'PLG' was into snow over the Massif Central hills. Digne, Grasse and Monte Carlo followed. It had been a comparatively easy Monte and 253 competitors remained unpenalized. The Regularity Test then took victims, 93 being penalized and four disqualified. An acceleration and braking test on the Monaco seafront then preceded a timed test on the Col de Braus mountain pass. Sadly the Couper crew's timing was out and they were placed 45th. In the Concours de Confort the car – valeted by the Monte Carlo Rolls-Royce dealership, won its class yet again – but missed out on the Grand Prix. The organizers, however, considered Mike Couper's contribution to the event to have been so great, over so many years, they awarded him and 'PLG' here a special Coupe d'Or (Gold Cup) instead. Mr Couper's expenses, "excluding tires, work on the car and various small bits and pieces came out as....£277 2s 8d."

The car is offered here in finely conserved condition, virtually rust free – in California since 1968 – never damaged and a largely original apart from a 1990s correct color repaint.

It is offered complete with all tools, sliding drawer tool kit, tire pump, jack, all oilers, torch (flashlight), even trunk leather luggage strap, and handbook. The engine is described as running strongly, maintaining good oil pressure, while clutch, transmission and brakes are described by the vendor as functioning without faults.

Very few R-Type Bentleys were referred to in original factory documentation as Bentley 7's but 'PLG's factory chassis card refers to it in this manner. The car's original documentation refers to it as a factory "trials car". It is perhaps the first R-Type Saloon to be fitted with a "Continental R" cylinder head, porting and polishing by Rolls-Royce at Hythe Road Service Facility before delivery to Couper.

The car was set-up with LHD springing for driving right on the European roads, and ride height was lowered (as confirmed in factory records).

This is a singular Bentley R-Type, and a historically significant one. It has wonderful character and the added charisma of having been so personalized by the factory for its immensely well-respected owner/driver. It is eligible for a cornucopia of entertaining and high-status events worldwide and will surely provide a most rewarding ownership experience for the discerning connoisseur.
Saleroom notices
Please note that this vehicle is titled as a 1952, and its correct engine number is B34S.