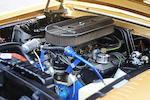 Documented, numbers matching, well optioned
1968 Shelby Mustang GT500 Convertible
Chassis no. 8T03S178845-02895
*360hp
*428ci Police Interceptor V-8
*Factory four-speed manual transmission

*1 of 97 examples in this color
*Subject of a comprehensive restoration
*Numbers matching
*Desirable convertible body style

You might have heard the story about the Texas chicken farmer who created the world's most desirable sports car, but in case you missed it, Le Mans winner Carroll Shelby retired from competitive racing due to a bad heart. He then opened a driving school before forming Shelby American and importing AC Aces from the UK, adding a Ford motor and renaming it the Cobra.

He then tried his hand on the new Ford Mustang. Mustangs were the best thing to happen to America since Soupy Sales, and when ol' Shel got ahold of the '65 2+2 fastback, it was better than Christmas. Starting with a K-code 289/271 4-speed, Shelby American removed the rear seat and added larger brakes, a high-rise manifold, and heavy-duty rear axle. All were white with 306 horsepower and ached for a driver with a twitchy right foot and an eye for curves.

Nineteen sixty-seven was the year the Shelby GT went from being a nimble running back to a pumped-up wide receiver. The GT-350 continued to use the Hi-Po 289, but the brand-new GT-500 had Ford's FE-series big block stuffed in between the shock towers: A Police Interceptor 428 rated at 355 horsepower and topped by two four-barrel 600-cfm carburetors on an aluminum intake manifold. Fiberglass bodywork with intakes galore gave notice this wasn't just any ordinary Mustang.

Shelby American production moved from its California digs to A.O. Smith in Ionia, Michigan for 1968. Big news was a new convertible with built-in roll bar that made it handy to carry surfboards to Laguna Beach. Also new was the GT-500's revised 428, now with a Holley 735-cfm four-barrel carburetor making 360 horsepower. Starting at $4498.31, the GT-500 convertible was out of the average muscle car buyer's range, but Shelby Mustangs never were average muscle cars.

This 1968 GT-500 convertible – part of a prominent Texas collection – comes with the original factory invoice, Shelby American order form, and Marti Report. The latter shows it to be 1 of 97 Sunlit Gold Shelby GT convertibles built. All told, 153 of the 402 GT-500 convertibles came with the four-speed transmission. A 99-point, 18-month rotisserie restoration rebuilt or replaced everything that needed attention while maintaining originality whenever possible, such as the interior. The nose, hood, scoops, tail panel, trunk, roll bar and more are all authentic Shelby pieces. The numbers-matching 428 has the correct date-coded smog components. All you need now is a friend in the tire business since it will be tough to resist the urge to burn some rubber.