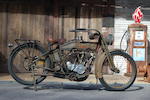 Ex-Gordy Clark Collection, Original Condition
1915 Harley-Davidson 11-F Twin
Engine no. 3344K
Considered by many to be one of the finest original examples of a 1915 Harley-Davidson in existence today, this motorcycle was formerly part of the famous Gordy Clark collection. The motorcycle exhibits a fine patina with remarkable finish on the sheet metal parts and its plated parts still have a lovely finish in nickel. This Harley-Davidson is completely unmolested and is presented as it would have been when it left the Milwaukee factory in early 1915. It is completely stock and has period acetylene head and tail lights accessorizing it. New replica "Non-Skid" tires are mounted on the wheels.

The Model 11-F was the top-of-the-line Harley-Davidson that year excepting electric lighting. The 11 horsepower V-twin engine alone featured 29 new changes or refinements. The greatest addition to the Harley-Davidson lineup was the introduction of their three-speed, sliding gear transmission. New to the buying public, the Motor Company took great care in their catalog to instruct prospective buyers on the advantages of having an intermediate gear to allow safer and more enjoyable riding. Their fear of riders unfamiliar to the operation of the new three-speed transmission led to the inclusion of an interlock which required the depression of the clutch pedal before the rider could shift his transmission. Along with the new three-speed transmission, Harley-Davidson also introduced a step starter, designed to allow the rider to start his motorcycle whether it was on its rear stand or with both wheels firmly planted on the ground. It was that predecessor to the modern kick starter.

The year 1915 was unique in the history of Harley-Davidson. This motorcycle was, thanks to the new transmission, edging towards a completely modern state of development yet this was the final year of the antique flat tank design before introducing a new streamlined appearance for the following year. The finish was still their familiar Renault Gray with broad dark gray striping and name Harley-Davidson in red with gold lining. With its glistening nickel, it must have been a gorgeous motorcycle and the envy of the rider's riding buddies.

The 1915 Harley-Davidson 11-F proved to be the most popular model of the year's presentation with an attractive price of $275. The company produced 9855 examples of this motorcycle, more than double the number made with electric lighting. In the 2010 Cannonball Run, a transcontinental timed trials across the United States for pre-1916 motorcycles, 1915 Harley-Davidsons were the favorite choice of competitors for their durability, capability and the clear advantage over other riders given them by the three-speed transmission. This motorcycle could also be yours to admire and enjoy for years.