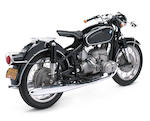 One of 1,634 examples produced
1961 BMW 494cc R50S
Frame no. 565306
Engine no. 565306
In the early 1950s, BMW concentrated on refining what were essentially pre-war designs, but by 1955 was ready with a brace of new machines, the R50 and R69. Of (nominally) 500cc and 600cc respectively, the newcomers inherited the updated flat-twin engine introduced on the R51/3 a few years previously, but deployed this in all-new cycle parts, the most notable departures from preceding practice being the Earles-type leading-link front fork and swinging-arm rear suspension enclosing the drive-shaft in the right leg - developments first seen on the works racers. Luxury tourers that cost as much as a small family car, the R50 and R69 sold to discerning enthusiasts to whom expense mattered little when set against the excellence of BMW engineering.

In 1960 the flat-twins range was revised as the '/2', most of the changes being inside the engine, which received a strengthened crankcase and crankshaft, hard-chromed piston rings, improved internal ventilation, new cam followers and a stronger clutch assembly. The new '/2' models were shown for the first time at the Nurburgring circuit in August 1960. The R69 disappeared from the range at this time, its place being taken by a brace of new sports models: the R50S and R69S. The larger of these, the R69S, produced 42bhp and was good for a top speed of around 110mph, while the 35bhp R50S did not lag that far behind with a maximum of around 100mph. Produced between 1960 and 1962 only, during which time 1,634 examples were completed, the R50S is one of the rarer post-war BMW twins and highly sought after by BMW collectors.

This R50S was the subject of a complete, 'frame up' restoration, which included the addition of third oversized pistons, completed in August of 2010 by Larry Junge of Bavarian Cream Restorations in Oregon City, Oregon. Purchased by the vendor from his neighbor 20 years ago, the bike is offered here with all relevant restoration invoices, tool kit and Certificate of Title.