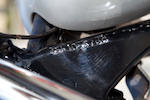 1963 BSA A10 Spitfire Scrambler
Frame no. GA103760
Engine no. DA10R16503
One of the rarest versions of BSA's A10 vertical-twin is the Spitfire Scrambler, also called the Rocket Gold Star Scrambler. This was the off-road competition version of the long-running pre-unit construction 650 and used many Gold Star parts. An export-only machine, it had a heavily American influence, built at the insistence of BSA Western States distributor Hap Alzina, who wanted something to go up against other companies' Britbikes in scrambles competition and California desert races. For those wanting a modicum of street-legality, BSA sold an accessory lighting kit.

Signature component is the Scrambler's mid-level shotgun-style exhaust, considered by many to be the best-looking set of pipes ever put on a dirtbike. Overall, the Scrambler is simply a very handsome motorcycle with a strong visual impact. This example is from the last year of production, thought to be one of 272 built for 1963, and equipped with some very choice components. From the '63 sales brochure: "The famous Spitfire now has the lightweight Gold Star frame, Gold Star Catalina type brakes front and rear, and it is powered to win with a Big Valve Rocket engine tuned to the straight-through dual cross-over exhaust system."

This Spitfire Scrambler has been fully restored and is fired by the correct Lucas competition magneto. It has been retrofitted with an Amal TT carb rather than the stock Monobloc.