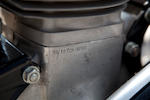 1959 AJS 600cc Typhoon
Frame no. C8608
Engine no. 5918TCS3298
Both AJS and sister company Matchless sold 600cc Typhoons in the U.S., each with an extra 100cc (actually 77cc) over the Matchless G80 and AJS 18CS models, obtained via a bore/stroke of 89 x 96mm vs. 86 x 85.5mm for the 500cc bikes. Otherwise the bikes are largely identical.

Cycle magazine came away very impressed with the 600 after testing it in the April, 1959 issue, noting, "In brief, the AJS Typhoon provides all the performance required of a 500cc-plus competition single, without the noise, intractability and extravagance once accepted as the inevitable price of riding a scrambler. It is a blend of punch and charm which is the special appeal of this model."

The 1959 AJS seen here has been restored. The current owner believes that less than 50 of this model Typhoon were manufactured.