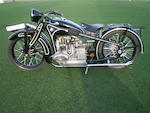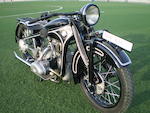 1932 BMW 735cc R16 Series 2
Frame no. P-1569
Engine no. 76508
Shortly after venturing into car manufacture for the first time by acquiring the Dixi works at Eisenach, BMW introduced a major innovation to its motorcycle range in 1929. The transversely mounted 'flat-twin' engine was already a BMW trademark but for the first time it was installed in a pressed-steel frame, the first models to incorporate this landmark of motorcycle design being the 735cc R11 and R16. BMW's relatively vibration-free engine was already a byword for smoothness and refinement, and this, coupled to a three-speed shaft-drive transmission, made the overhead-valve R16 one of the finest large-capacity sports motorcycles of its day. Progressively improved, the R16 was built in five series up to 1934, a total of 1,106 machines being built.

This matching-numbers R16 Series 2 was restored approximately 7-10 years ago and is described as in good running order, incorporating a new throttle lever and modern speedometer. The machine is offered with German registration papers and expired roadworthiness certificate (February 2011).

Die BMW R11 und R16 waren die ersten Maschinen die mit einen Rahmen aus 'gepresstem Stahl' gebaut wurde, Zusammen mit dem relativ vibrationsarmen Boxermotor und der 3-Gang-Schaltung gehörten sie zum Besten, das der Markt zu bieten hatte. Diese 'Matching-Numbers' R16 wurde vor etwa sieben bis zehn Jahren restauriert und wird als 'in gutem Gesamtzustand' beschrieben, inklusive eines neuen Gasgestänges und modernem Tachometer. Zum Motorrad gehören Deutsche Fahrzeugpapiere; der TÜv ist im Februar 2011 abgelaufen.