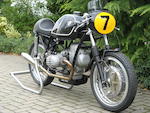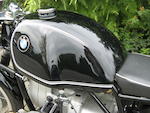 BMW 490cc R50S Classic Racing Motorcycle
This beautiful BMW racer was built in 2010 by a BMW dealer specialising in the marque's older models. This team has raced their own-designed classic BMWs with some success (see Klassik Motorrad magazine, May 2008 edition); indeed, one built by this dealer won the Netherlands classic racing championship in 2010.

Built with all new parts, the 490cc engine incorporates an R50/2 crankshaft with 5mm longer con-rods; R50S pistons; Schleicher RO160 camshaft; special bearings; 38/34mm inlet/exhaust valves; 2kg flywheel (6.2kg standard); and a 3-litre sump. Overhauled original Dell'Orto SSI 29 race carburettors supply the mixture, which exits via 38mm down-pipes into a full stainless steel exhaust system. We are advised that the engine currently produces 42.8bhp at 8,000rpm (at the rear wheel) with maximum torque of 40.5 Nm (29.9lb/ft) at 5,960 revs. It is estimated that the maximum power figure will rise to 48bhp at 9,500rpm after running in.

The gearbox contains a 'long' 1st gear, close 2nd and 3rd ratios and standard 4th (top). All bearings are new. The current final drive ratio is 34/8 (for short circuits). Newly fabricated to the constructor's own design, the frame is based on that of a BMW RS54 and is powder coated in black. The front fork is a modified R60 and the rear suspension units are Hagon. Both the fuel tank and seat are of the maker's own design. The wheels are built up using new 18" aluminium rims, stainless steel spokes and a new Yamaha TZ 260mm four-leading-shoe front brake with modified BMW '/6' hub at the rear. Other noteworthy features include new Magura handlebar controls, new Bowden cables and numerous nickel-plated parts. Presented in race-worthy condition, the machine has a wheelbase of 1375mm and weighs 158kg ready for the rack. Spare parts offered with it include a 32/9 final drive (for longer circuits), sparkplugs, set of rockers, pushrods, carburettor jets, a centre stand, oils and technical information.

Diese elegante Rennmaschine wurde von einem BMW-Händler gebaut, der sich auf die älteren Modelle der Marke spezialisiert hat. Das Team setzte seinen 'Eigenentwurf' mit gutem Erfolg ein, (siehe auch "Klassik Motorrad", Ausgabe Mai 2008), eine von diesem Händler gebaute Maschine gewann 2010 die Niederländische 'Classic Racing' Meisterschaft. Aus Neuteilen montiert verfügt der 490 cmm Motor über eine R50/2 Kurbelwelle mit 5 mm längeren Pleuelstangen, RS50S Kolben, Schleicher RO 160 Nockenwelle, Spezial-Lager, 38/34 mm Ein-/Auslassventile, 2 kg Schwungrad (anstatt der Standard 6.2 kg), sowie eine 3 Liter Ölwanne. Überholte, originale Dell'Orto SSI 29 Rennvergaser liefern das Gemisch, der Auspuff besteht aus 38 mm Krümmern in die Edestahlauspuffanlage münden Der Motor leistet 42,8 PS (am Hinterrad gemessen) bei 8.000 U/Min, sowie 40,5 Nm bei 5.960 U/Min. Das Getriebe besteht aus einem langen ersten Gang, 2. und 3. sind kurz übersetzt und der 4. Gang verfügt über die Standardübersetzung. Alle Lager wurden erneuert. Die Endübersetzung beträgt 34:8. Der schwarze, pulverbeschichtete Rahmen basiert auf der BMW RS54. Die Gabel ist eine modifizierte R60, die Hinterradfederung stammt von Hagon. Benzintank und Sattel sind Eigenentwürfe des Herstellers. Die Räder bestehen aus 18 Zoll Aluminium-Felgen mit Edelstahlspeichen. Vorne wurde eine eine Yamaha TZ 260 mm 4-Backenbremse verbaut in Verbindung mit einer modifizierten BMW '/6' Nabe hinten. Der Radstand beträgt 1.375 mm.

Versteigert wird die Maschine, die in rennfertigem Zustand lediglich 158 kg auf die Waage bringt, mit einer zusätzlichen Achsübersetzung von 32:9, Zündkerzen, Stösseln, Kipphebeln, Düsennadeln, sowie technischen Informationen.