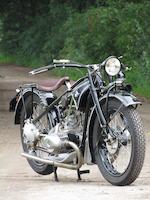 1927 BMW 494cc R47
Frame no. 4624
Engine no. 34943
Launched in 1923, the first motorcycle to be sold as a BMW - the R32 - featured a 494cc, twin-cylinder, sidevalve engine having horizontally opposed cylinders, and this 'flat-twin' layout would forever be associated with the marque. The marque's first sports machine, the R37, appeared in 1924. The R37 boasted an overhead-valve engine producing almost double the R32's power output - 16bhp, good enough for a top speed of more than 70mph - but was produced for little more than a year (only 175 being made) before being replaced by the improved R47, the latter featuring increased power (18bhp) and a driveshaft-mounted rear brake in place of the R37's block-and-pulley type. The R47's cycle parts were typically BMW, comprising a duplex loop frame and leaf-sprung trailing-link front fork. Top speed was in the region of 70mph. R47 production lasted for just two years, 1,720 machines being sold, and today this rare Vintage-era BMW is among the marque's most desirable and sought after machines of the period.

Information supplied by the BMW Group Archives states that this example consists of the frame of an R47 delivered to the dealer Wolf & Diefenbach in Mannheim, Germany on 16th July 1927 while the R47 engine was in a machine delivered to the dealer Schau in Altenburg, Germany on 7th September 1927.

This rare R47 was purchased during the 1980s and restored approximately 25 years ago by a former south German private collector. Kept in his collection together with other exotic motorcycles, it has recently been re-commissioned and road tested and is described by the vendor as in generally very good condition. There are no documents with this Lot.

Die R47, Nachfolgerin der gegenüber der R32 bereits stark verbesserten, sportlichen R37, gehört zu den gesuchtesten BMWs dieser Periode. In der Produktionszeit von lediglich zwei Jahren wurden nur 1,720 Maschinen produziert. Die Höchstgeschwindigkeit betrug etwa 120 km/h. Das BMW-Archiv zeigt, dass der Rahmen am 16. Juli 1927 an die Firma Wolf & Diefenbach in Mannheim ausgeliefert wurde, während der Motor am 7. September 1927 an den Händler Schau in Altenburg ging.

Diese seltene R47 wurde in den 80er Jahren erworben und vor etwa 25 Jahren von einem Sammler in Süd-Deutschland restauriert. Kürzlich probegefahren wird das Motorrad von seinem Besitzer als in 'insgesamt sehr gutem Zustand' beschrieben. Es kommt ohne Papiere zur Versteigerung.