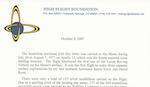 IRWIN'S FLOWN APOLLO 15 ROBBINS MEDALLION.
ONE OF ONLY 127 CARRIED ON THE MISSION.
Flown Apollo 15 Robbins medallion made from sterling silver, 1¼ inches in diameter. The crew mission emblem is on the obverse with the mission dates on the reverse. Serial number "111" is engraved along the medallion rim. With a Typed Letter Signed by Mrs. MARY IRWIN and the original plastic storage box issued by Robbins.

MARY IRWIN'S October 8, 2007 signed provenance letter reads in part: "This medallion enclosed with this letter was carried to the Moon during July 26 to August 7, 1971 on Apollo 15, which was the fourth manned lunar landing mission. The flight employed the first use of the Lunar Roving Vehicle on the Moon's surface. It was the first flight to make three separate surface explorations by my late husband Astronaut James Irwin and David Scott.
There were only a total of 127 silver medallions carried on the flight. Due to a spelling error of the landing site name, 177 of the 304 medallions originally struck were returned to the Robbins Company to correct the error. Because of the length of this process, they could not be corrected prior to the Apollo 15 launch date and were not flown. The 127 medallion that were flown with the error contain the initials of the Apollo 15 mission emblem designer, Italian Emilio Pucci. His initials are just above the "R" in Worden's name.....
This medallion has been in our private collection since 1971.... It is one of the Robbins series of flown Apollo medallions and is serial number 111 of the Apollo 15 set. In addition, a copy of the original medallion distribution list with serial numbers written by my husband's own hand is included."