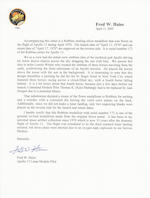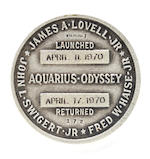 HAISE'S APOLLO 13-FLOWN ROBBINS MEDALLION.
Flown Apollo 13 Robbins medallion made from sterling silver, 1½ inches in diameter. The crew mission emblem is on the obverse with the crew names, mission dates, and serial number 172 on the reverse. With a Typed Letter Signed by FRED HAISE and the original Robbins issued plastic storage box.

FRED HAISE'S April 11, 2005 signed provenance letter reads in part: "Accompanying this letter is a Robbins sterling silver medallion that was flown on the flight of Apollo 13 during April 1970. The launch date of 'April 11, 1970' and our return date of 'April 17, 1970' are engraved on the reverse side. It is serial number 172 of the Robbins series for Apollo 13.
The emblem of three horses above the moon with the sun in the background was designed by artist Lumen Winter. We were impressed by a painting he did for the St. Regis Hotel in New York City which featured three horses racing across a cloud-filled sky, with a fourth horse falling behind. We asked him to build on some [of] our thoughts for a symbol of the flight. The emblem featured on the front of this medallion was the result of his creative work.
This medallion has been in my personal space artifact collection since 1970.... The flight was scheduled to be the third manned lunar landing mission, but those plans were aborted due to an oxygen tank explosion in our Service Module."