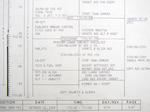 PLAN FOR MAN'S SECOND LUNAR LANDING.
Apollo 12 Flight Plan, Final AS-507/CSM-108/LM-6. Houston, TX: NASA/MSC, October 15, 1969. Over 240 pp. 10½ x 8 inches with 4 fold-out sheets. Heavy card stock covers, punched with staple removed.

The knowledge gained from Neil Armstrong and Buzz Aldrin's successful lunar landing and exploration was incorporated in the development of this Apollo 12 flight plan. Includes: general flight plan notes including space suit wearing schedules, communications and power periods, photographic nomenclature, and various equipment operations schedules; mission objectives which are mainly focused on the lunar surface activities; mission timeline, including contingency plans in the case of trouble extracting the LM, docking issues, or the failure of the LM descent engine.
SIGNED and INSCRIBED by ALAN BEAN and RICHARD GORDON with "Apollo 12 LMP," and "Apollo XII CMP" respectively on the front cover.