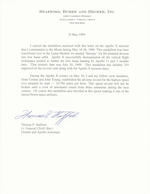 CARRIED IN LUNAR MODULE SNOOPY ON APOLLO 10.
ROBBINS MEDALLION. Flown Apollo 10 medallion by the Robbins Company, sterling silver, 1 inch diameter. Featuring the Apollo 10 mission emblem and crew names on the obverse and with the flight dates and serial number 254 engraved on the reverse. Apollo flown medallions were manufactured by the Robbins Company, located in Attleboro, Massachusetts.

Accompanied by THOMAS P. STAFFORD'S signed provenance letter, dated May 18, 1999, which reads: "I carried the medallion enclosed with this letter on the Apollo X mission that I commanded to the Moon during May 18-26, 1969. This medallion was later transferred over to the Lunar Module we named 'Snoopy' for the planned descent into low lunar orbit. Apollo X successfully demonstrated all the critical flight techniques needed to enable the first lunar landing by Apollo 11 just 2 months later. That historic date was July 20, 1969. This medallion has number 254 engraved on the reverse side along with the Apollo X mission dates.
During the Apollo X reentry on May 26, I and my fellow crew members, Gene Cernan and John Young, established the all-time record for the highest speed ever attained by man — 24,790 miles per hour. This speed record will not be broken until a crew of astronauts return from Mars sometime during the next century. Of course this medallion also traveled at this speed making it one of the fastest flown space artifacts."