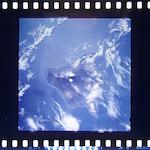 SKYLAB 4 ON-BOARD COLOR PHOTOGRAPY.
70 mm film roll over 20 feet in length stored in a 4 inch diameter metal cylinder. Included is a two page image listing which reads in part: "70mm LOOP, SKYLAB 4 (third manned mission – Jerry Carr commanding) ON-BOARD PHOTOGRAPHY. Feb. 14, 1974 – 33 Color Views. All Earth Terrain except 2. 70mm Hasselblad Camera."

The sheet lists the individual SL4 image IDs with a location/subject description. Images include Australia, New Zealand, Campbell Island, a Pacific typhoon, India, Japan, and Europe. North America images include California, Louisiana, Florida, and several Rocky Mountain states. The "except 2" images are of the Skylab space station during the Command/Service Module fly-around.