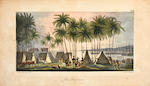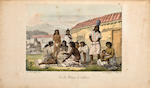 CHORIS, LOUIS. 1795-1828.
Voyage pittoresque autour du monde, avec des portraits de sauvages d'Amérique, d'Asie, d'Afrique, et des iles du Grand Ocean; des paysages, des vues maritimes, et plusieurs objets d'histoire naturelle. Paris: Firmin Didot, [1820]-1822.
Folio (427 x 261 mm). [4], vi, 17, [1 blank], [3]-20, 10, 4, 24, 22, 28, 19 pp. 105 plates, comprising lithographed frontispiece portrait of Count Romanzoff, Chancellor of the Russian Empire; and 104 hand-colored plates from drawings by Choris, chiefly lithographed. Lacking the 3 maps, final 6-page section of text (Notice sur les iles de corail), subscribers list and directions to the binder. Period paste-paper boards, rebacked. Toned and foxed throughout, occasional tidemarks, about 3 plates with closed marginal tears, plate of Aleutian islands hat torn in half (without loss), view of Unalaska and plate of Behring Straits weapons both with closed tears affecting images, occasional fingersoiling, cover corners worn, untrimmed.
Provenance: Achille De Tomasi (inkstamp on front free endpapers and title-page).

FULLY-COLORED COPY of this "elaborately handsome work by the artist with Kotzebue's 1816 expedition in which a long visit was made to the Pacific coast from California to Bering's sea" (Howes). This work was issued in 22 livraisons between December 1820 and May 1823. Livraison 21 (August 1822) had been denominated the "derniere livraison" but one more followed 9 months later with the final 2 1/2 sheets of text and the maps. This copy is complete with livraisons 1-21 but lacking livraison 22. Two title pages were printed, one dated 1820 and the other dated 1822, but according to Forbes there was only one issue of the text and plates. A lithographed portrait of the artist is occasionally found, but is not called for in the list of plates. Plates in the present copy conform to Forbes variants "B" except Kamehameha's portrait is in a mixed state showing lithographer's imprint of Langlume but without Hawaiian fort in background, and female dancers of Hawaii in state "A" with a Hawaiian man at lower left and no palm trees in the background. Choris' work is in essence an album of illustrations, the text giving just the key facts of the voyage and explanations of the plates. The lithographs range from scenes of native life to topography, ethnography, natural history, and artifacts. Twelve plates relate to California, nineteen to the Hawaiian Islands, and twenty-three are of Alaskan interest. The Philippines, Chile and Easter Island also feature. Brunet I:1851 (calling for 110 plates); Forbes 541; Hill 290; Howes C397; Lada-Mocarski 84; California on Stone pp 97-98; Sabin 12884; Streeter sale 2461.