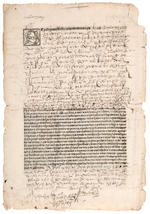 MEXICAN PRINTING—ESPINOSA, ANTONIO DE (printer). D. 1578.
Printed Document finished in Manuscript, 2 pp (recto and verso), folio, Mexico, [Antonio de Espinosa, 1562], printed with two settings of a formal printed legal document, with a large wood or metal-cut initial "S" with a line of introductory text "Sepan quantos esta carta vieretti como yo," followed by a large space (here filled by manuscript testimony), followed by 19 lines of printed text (here followed by a manuscript conclusion and signatures). Old central fold with small holes, five wormholes, tears to margins with paper loss.

AN "INCUNABLE" OF NEW WORLD PRINTING FROM ONE OF THE EARLIEST PRINTERS TO WORK IN THE AMERICAS. Born in Jaén, Spain, Antonio de Espinosa arrived in Mexico City in 1551 where he worked as a type founder and die cutter for Juan Pablos, the student of Juan Cromberger who had arrived in Mexico City in 1539. Espinosa subsequently set up in competition with his former employer and in 1554 Antonio de Espinosa cut and used the first roman and italic types, which by the end of the century had replaced Juan Pablos' old gothic forms. Espinosa introduced the latest printing practices from Spain to the New World, not just in new type forms that he made for himself and Pablos, but also in using decorative techniques such as armorial title pages. José Toribio Medina Historia de la imprenta en los antiguos dominios españoles de América y Oceanía Santiago, 1958, vol I, pp 100-107; Román Zulaica Gárate Los franciscanos y la imprenta en México en el siglo XVI México: UNAM, 1991.