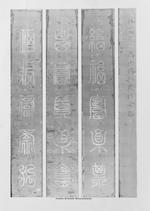 A historically important documentary 'City of Canton' carved lacquer eight-leaf screen
Kangxi, circa 1690
Carved through a thick dark brown lacquer on one side with an extensive panorama of the walled city, with recognisable buildings easily identifiable, dotted with clusters of pavilions and tiered towers, rising from an extensive riverscape in the foreground, the details also painted in attractive shades of green, blue, red and white, the reverse of the screen painted in red lacquer beneath gold in each panel with large characters, the panels linked together by typical 'ring and pin' hinges found on early carved screens of this type.
Each panel: 193cm high. (8).
Footnotes