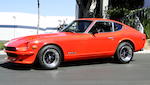 1977 Datsun 280Z Coupe
Chassis no. HLS30362735
During the 1960s, Datsun realized the importance of offering affordable sports cars to compete mainly with English and Italian brands. The company produced the successful series of Fairlady roadsters and work began on a new line of GT cars that would be stylish, innovative, fast, and relatively inexpensive.

The Datsun 240Z was introduced in 1970, and was an immediate hit as it offered performance comparable to a Porsche 911 at a considerable discount . Its inline 6-cylinder, 151hp engine was a derivation of the Datsun 1600 'four' and offered ~8-second 0-60mph times. On the track, the 240Z dominated the SCCA (Sports Car Club of America) C-Production category for 10 years from 1970 through 1979.

By 1975, the Z had evolved into the more luxurious 280Z, with a plusher interior and an engine now displacing 2.8 liters with Bosch fuel injection replacing the previous dual carburetor setup. The offered example, a 1977 model, has been tastefully upgraded and combines the benefits of the more powerful 280Z with a clean look reminiscent of the original 240Z. Done in a distinctly "California style" this Z has thankfully lost its ungainly 5mph crash bumpers in favor of a deleted rear bumper and trimmer front bumper and air dam that match the striking exterior coat of Blaze Orange.

In 2010 this Z was treated to a considerable mechanical restoration that included its balanced and blueprinted 2.8 liter motor, a new clutch, upgraded Neoprene suspension, new brakes, radiator, fuel injection wiring harness and new weather stripping, and other items too numerous to mention. The interior features a rare uncracked original dash, while factory air conditioning is in keeping with the gran turismo nature of the 280. Upgraded 15" eight-spoke XX/R wheels shod in new performance tires complete the exterior package.

Described as very clean, solid example and a great driver by the vendor, this Z is registered on California Historical Vehicle license plates, adding further cache. This Z just begs its new owner to find a nice twisty road and go for a drive!
Saleroom notices
This lot has been added to the sale.