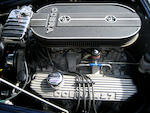 Powered by a 504ci, 478hp V8
c.1965 Superformance MKIII (AC Cobra 427 SC Roadster Replica)
Chassis no. SP0 2314
Of all the fire-breathing muscle cars and legendary racing machines of the 1960s, the big-block 427 Cobra is perhaps the most memorable. Its delicate styling, which harkens back to the AC Ace Roadster from which it was derived, was suitably beefed up to cope with the 427's massive power; wider fenders accommodated the massive rear tires needed to put power to pavement, while side-pipes gave the car a decidedly masculine look. In this form, 427s terrorized the streets and became formidable track machines as well an American cultural icon.

While recreations of this legendary beast are relatively common, truly well-executed examples are few and far between. The finest tribute cars are those produced by Superformance, a company well-known for their exquisitely detailed Cobra and GT40 recreations. As a testament to their high-quality and attention to detail, the Superformance Cobras were licensed by Carroll Shelby where lesser-quality iterations did not receive his blessing.

The offered example, titled as Special Construction vehicle, is presented in indigo blue with titanium stripes, and features a variety of options including ceramic headers, side pipes, glove box and a passenger side roll bar. Sold to its original owner in 2006 less engine, this MKIII was then given its heart in the form of a big block Ford FE 427ci engine with Shelby aluminum block and Edelbrock aluminum heads. The build sheet is impressive; the 427 was bored and stroked to achieve a displacement of 504ci, fitted with twin Holley four-barrel carburetors and a variety of go-fast components including forged aluminum pistons, a solid lifter camshaft from Comp Cams, and electronic MSD ignition. Upon completion the car was dyno'ed in April 2009 at 478hp at 5,100rpm and impressive 583ft/lb of torque. The dyno sheet from engine builder Pops Performance is available.

Offered by its first private owner, this Superformance MKIII delivers the full big-block Cobra driving experience and look at roughly 1/10th the cost of an original; it's difficult to argue with the fun per dollar quotient that this sensational motorcar delivers.
Saleroom notices
This lot has been withdrawn from the sale.