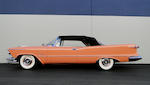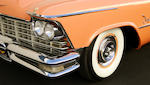 One of 1,167 examples produced
1957 Chrysler Imperial Crown Convertible
Chassis no. C5736398
For 1957, the luxurious Imperial line styling moved further away from its Chrysler roots, 'Imperial' in essence becoming its own distinct up-market brand. The '57s took Virgil Exner's "Forward Look" design aesthetic to the extreme, incorporating "FlightSweep" styling cues that included taillights integrated into the tips of the tailfins, further raising the bar for the 'fin wars' of the period.

The top-of-the-line 6-passenger Convertible model was produced in limited numbers due to its high cost – a prohibitive base price of $5,598 easily eclipsed with the addition of options such as air conditioning ($590), radio ($176) and power windows ($125). As a result, a mere 1,167 examples of the Convertible were produced.

The example offered here is surely one of the finest available today, having benefited from a rotisserie off-frame restoration. It presents strikingly in Sunset Rose with a matching two-tone interior and new black canvas power top. Fitted with the aforementioned radio, air conditioning, and power windows, as well as an 8-way power seat and power steering, this specification is truly the best that money could buy.

Its beauty, however, is not skin deep – look underneath at the detailed undercarriage and floor pans in body color – while under the hood, the powerful 325hp/392ci HEMI V-8 – described by the vendor as the original - is detailed to show standards.

As one of the most innovative vehicles of its time, its classic Virgil Exner styling incorporating the most dramatic design components of the period, the Imperial Crown Convertible is a glamorous and luxurious reminder of the pinnacle of 1950s American excess. Described by the vendor as a great runner and driver, this Imperial will turn heads from the cruise-in to the show circuit and everywhere in between.

Offered on an Arizona Certificate of Title.