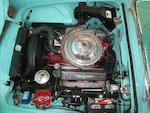 Over $10,000 in recent improvements
1955 Ford Thunderbird
Chassis no. P5FH123228
Today, Ford's original Thunderbirds are considered icons of the fabulous fifties, but when first introduced in 1954 for the following model year, they were a very elegant departure for Ford. A modestly-sized two-seat car wasn't new for a major American automaker. The Corvette had beaten the Thunderbird to market by more than a year. However, the way Thunderbird addressed the challenge was very different.

Rather than attempting to be a sports car in the European mold, the Thunderbird was a moderately powerful and well-finished personal luxury car offering quite a few choices. The all-steel Ford came standard with a 292 cid V-8 and the option of manual (with or without overdrive) or automatic transmission. When the Ford-O-Matic transmission was specified, power climbed from 193 to 198 horsepower. The chassis followed typical Ford practice, with independent suspension up front and a live axle bringing up the rear. Brakes were drums all around.

This Thunderbird Blue with turquoise and white interior left the Dearborn assembly plant on December 16, 1955 bound for a Chicago-based dealer. Its original owner gave the car to his wife as an anniversary gift. It eventually found its way to the family's son after his parents had left this mortal coil. Mr Joe Predegar of Alabama purchased the car from the original owner's family before it found its way to the vendor early last year. Upon purchase, an extensive list improvements were carried out that included thorough mechanical restoration, conversion to a 12 volt electrical system, and much more. Four pages of invoices totaling over $10,000 detail the work.

Fitted with a correct hardtop that has had a set of portholes cut into it, this Thunderbird is stylish, fun and offers more than respectable performance—early Thunderbirds are terrific for many different uses. They can cruise at 70 mph all day long and still attract a crowd at any show.