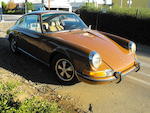 1971 Porsche 911E
Chassis no. 9111200460
Porsche's long-running and much loved 911 sports car first appeared at the 1963 Frankfurt Show as the '901', but shortly after production commenced in 1964 had become the '911' following Peugeot's complaints about the use of '0' model numbers. The 356's rear-engine layout was retained but the 911 switched to unitary construction for the body shell and a more modern McPherson strut and trailing arm suspension layout. In its first incarnation, Porsche's single-overhead-camshaft, air-cooled flat six engine displaced 1,991cc and produced 130bhp; progressively enlarged and developed, it would eventually grow to more than 3.0 liters and, in turbocharged form, put out well over 300 horsepower.

The first of countless upgrades to the perennial 911 came in 1966 with the introduction of the 911S. Easily distinguishable by its stylish Fuchs five-spoke alloy wheels, the 'S' featured a heavily revised engine producing 160bhp. Improved handling courtesy of a lengthened wheelbase arrived in 1969 and then in 1970 the 911's air-cooled, flat six engine underwent the first of many enlargements - to 2.2 liters. By this time three 911 models were offered: the 911T, 911E and 911S, all of which were available as either a closed coupe or Targa convertible. First seen in 2.0-liter guise in 1969, the 911E was positioned between the entry level 'T' and top-of-the-range 'S', producing a maximum power output of 153hp in 2.2-liter form with fuel injection.

The 911E offered here is described by the vendor as a local California car that has been maintained over the years with all original equipment and has retained its original color scheme of Sepia Brown with tan interior. Fitted with Fuchs wheels and a 5-speed gearbox, this 911 represents perhaps the best compromise for the aspiring early 911 owner: it combines the good looks of a pre-1974 car with the better handling afforded by the LWB version, the reliability of the fuel-injected 2.2 liter motor, and a price point that is a comparative bargain considering the market today for the most-sought-after 'S' models. In short, the 911E is the thinking man's choice.