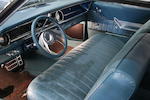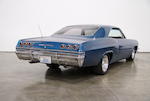 1965 Chevrolet Impala Custom Coupe
Chassis no. 164375L130162
The swooping 1965-66 Chevrolet Impala and Super Sports hardtops still provoke arguments of collectors of a certain age what was the best looking car from the mid-1960s. They were seldom customized beyond being a street rod/daily driver, and that's the car on offer.

This 1965 Impala was modified in Hillsboro, OR west of Portland. It appears to have been a labor of love, as there is an extensive file of photos and bills. The car was taken down to bare metal, then repainted and modified in a number of ways.

This coupe is powered by a 350ci Chevrolet V8, with a Turbo 350 automatic transmission. It has power steering and brakes, a tilt-telescope wheel and rides on 16-inch Center Line mag wheels.

It was lowered and repainted in bright metallic turquoise, with ghost flames. The interior was stripped and redone in matching brocade and a CD/stereo was fitted. The door pulls are billet aluminum and the engine compartment is a mixture of chrome and billet parts. The door handles have been shaved, but the bumpers are straight and fresh, as are the lenses. The interior could use some detailing and the odometer indicates 29,165 miles, which may date from the restoration.