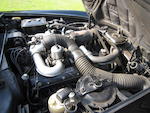 The ex-Antenor Patiño
1968 Rolls-Royce Silver Shadow Saloon
Chassis no. SRX4210
'In short: these cars combine advanced engineering and safety specifications with traditional Rolls-Royce standards of craftsmanship. In the manner of their performance they are as revolutionary as the Silver Ghost was 59 years ago,' announced Rolls-Royce at the Silver Shadow's launch in 1965.
The foregoing was no mere flight of fancy, for with the introduction of the Silver Shadow, Rolls-Royce brought its body/chassis engineering bang up to date by switching to unitary construction, while retaining all the hallmarks of a traditional hand-crafted product. The Shadow's all-round independent suspension and power-operated four-wheel disc brakes were both 'firsts' for Rolls-Royce, while the new styling appealed to the younger generation of Rolls-Royce owner-drivers more prevalent from the mid-1960s onwards. The existing 6.2-litre V8 continued in the Shadow until the need to maintain power while conforming to US emissions regulations saw it enlarged to 6,750cc in 1970. Notable prior developments had included the adoption of GM400 automatic transmission and air conditioning as standard.
A desirable early Silver Shadow, built before the need to conform to the USA's safety laws saw the original's clean lines somewhat spoiled by large, 'impact resistant' bumpers, 'SRX4210' was first registered on 1st June 1968 in France and has had only four owners from new. The first owner was Antenor Patiño, who owned luxurious properties in Paris, France and Lisbon, Portugal. He was the son of Simon Patiño, the Bolivian industrialist who was ranked among the world's wealthiest men at the time of his death in 1947. In the 1920s Simon Patiño took up residence in France, where his family occupied an hotel on the Champs Elysées and owned a villa close to Nice. Heir to his father's fortune, Antenor Patiño was a keen collector of 18th Century French furniture and a connoisseur of fine automobiles, owning several Rolls-Royces and Bentleys. The accompanying history file contains many invoices in his name issued by Franco Britannic Automobiles, Henri Chapron and others for servicing and replacement parts.
Following Antenor Patiño's death in New York in 1982, the Silver Shadow was purchased by Marcel Diennet who took the car to Beverly Hills, California where he was unfortunate enough to pick up a parking ticket (on file). In 1999 the Shadow was acquired by the third owner, Pierre Corbin, a resident of Paris and Normandy, France. Mr Corbin owned the Rolls-Royce until 2005 when it was acquired by the current (fourth) owner, a resident of Toulouse, France, and there are recent bills on file relating to servicing the hydraulics and a gearbox overhaul. Masons' Black with original beige leather interior, the latter featuring special wood trim, this elegant car is offered with the aforementioned bills, R-REC copy chassis card and French Carte Grise.

No reserve.

Cette désirable Silver Shadow, construite avant l'entrée en vigueur des normes de sécurité américaines qui gâtèrent ses lignes épurées par l'installation obligatoire de gros boucliers résistants aux impacts, « SRX 4210 » qui fut immatriculée pour la première fois le 1e juin 1968 en France n'a eu que quatre propriétaires au total. Le premier fut Antenor Patino, propriétaires de luxueuses résidences à Paris et à Lisbonne, fils de Simon Patino, industriel bolivien considéré comme un des hommes les plus riches du monde à l'époque de sa mort en 1947. Dans les années 1920, Simon Patino s'installa en France où sa famille habita un hôtel aux Champs-Elysées et une villa près de Nice. Héritier de la fortune familiale, Antenor Patino fut un collectionneur avisé de mobilier français du XVIIIe siècle et un fin connaisseur de belles automobiles, amateur de Rolls-Royce et de Bentley. Le dossier historique joint contient de nombreuses factures à son nom émises par Franco Britannic Automobiles, Henri Chapron, etc pour divers travaux d'entretien et de réparations.

Suite à la mort d'Antenor Patino à New York en 1982, la Silver Shadow fut achetée par Marcel Diennet qui emmena la voiture à Beverly Hills, en Californie, où il reçut une contravention (figurant au dossier) pour stationnement illicite. En 1999, la Shadow fut achetée par son troisième propriétaire, Pierre Corbin, résidant à Paris et en Normandie. M. Corbin conserva la voiture jusqu'en 2005, date à laquelle elle fut acquise par son quatrième et actuel propriétaire résidant à Toulouse. Le dossier contient des factures récentes relatives à l'entretien des circuits hydrauliques et à la révision de la boîte de vitesses. Noire avec intérieur en cuir beige d'origine et boiseries spéciales, cette élégante voiture est accompagnée des factures mentionnées ci-dessus, d'une copie de la fiche de fabrication du R-REC et de sa carte grise française.