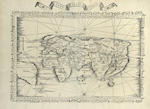 PTOLEMAEUS, CLAUDIUS.
Geographicae enarrationis libri octo. Lyons: Melchior & Gaspar Trechsel, 1535.
Folio (390 x 275 mm). a-n6 A-E6 F8 [1-16]6. Translated by Willibald Pirckheimer, revised by Michael Servetus. Woodcut device on title. 50 woodcut maps comprising 27 double-page maps of the ancient world, 22 double-page maps of the modern world, and one full-page map of Lotharingia on verso of map 46, most with text on verso in elaborate woodcut borders attributed to Hans Holbein and Urs Graf. Many woodcut text diagrams, woodcut initials, woodcut headline. Modern vellum, old gilt-lettered spine label preserved; custom clamshell case. Gutter margin of title partially renewed, scattered short marginal wormholes but about 12 leaves with slight loss within text (in h, i & B gatherings), k1 & k2 with paper flaw and loss of a couple letters, map 27 (world) with some period marginalia, few inkstamps to title and a few map versos.

"EDITIO PRIMA SERVETI." The first edition edited by Michael Servetus [1511-1553]. Servetus was already under suspicion of heresy and here uses the pseudonym he adopted for his anti-trinitarian works: "Michel de Villeneuve." Servetus was an accomplished anatomist as well as geographer; his description of the pulmonary circulation of blood was much earlier than Harvey's but unfortunately was not widely recognized, as Servetus's secular works were destroyed alongside his theological ones after he was condemned for heresy. One ostensibly heretical element to the Servetus edition of Ptolemy is that Palestine is described as "not such a fertile land as was generally believed, since modern travelers reported it barren." This statement, however, is not even original to Servetus, but carried over from Johannes Regiomontanus's notes on the 1525 edition of the Pirckheimer translation. Nordenskiöld Collection 2:209; Phillips Atlases 364; Sabin 66483.