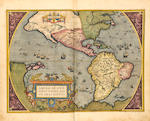 ORTELIUS, ABRAHAM. 1527-1598.
Theatro d'el orbe de la tierra. Antwerp: Officina Plantiniana for Jan Baptist Vrients, 1602.
Folio (425 x 284 mm). Hand-colored engraved title-page with hand-colored full-page arms of Philip III on verso; hand-colored author portrait; 118 double-page engraved mapsheets, many with multiple maps, maps with contemporary hand-coloring. Hand-colored woodcut initials throughout. Modern red calf gilt. Moderate toning, some finger-soiling, title remargined, corner of first text leaf renewed (loss to catchword) and other repairs to text in about first 20 leaves, maps re-stubbed, green color heavily oxidized on first 4 maps (world, Europe, Asia and Africa) with repairs and reinforcements to versos and associated repaired small losses, and Asia map with brittle Arabian peninsula, scattered few other repairs to versos and margins, light staining to Culiacan map, small marginal repair to Iceland map, Holy Land map with old repair on verso with 9 lines of text supplied in manuscript.

SPANISH EDITION OF ORTELIUS'S THEATRUM WITH ORIGINAL HAND-COLOR. Over the course of the Theatrum Ortelius issued many new maps and revised others; whereas the first edition contained 53 maps, there are over twice as many included here. There were three separate plates for both the world and the western hemisphere maps. This edition contains the final plate of each, these are the first to mark the Solomon Islands. The edition also includes Ortelius's famous and graphic map of Iceland (1585); the first separate map of China (1584) to appear in a European atlas compiled by Ludovico Georgio, a Portuguese Jesuit, which "remained the standard type for the interior of China for over 60 years" (Tooley); and the first separate map of Japan (1595), also a standard for decades. Koeman Ort 34; Tooley Maps & Mapmakers p 29.